As people, and attempt to cope with the aftermath of trauma (violent crime, death and loss), we may experience psychological and emotional effects that persist long after physical wounds have healed or time has lapsed. Symptom responses can include anxiety, depression, diminished self-esteem, hyper-vigilance, anger or irritability, detachment or estrangement of others, memory loss or forgetfulness, sleeping disorders, and recurring flashbacks or intrusive thoughts. Child, teen, adult victims (and their families) have been known to suffer mental health effects including poor academic or job performance, aggression, antisocial behavior, and substance abuse. Now I See A Person Institute offers nurturance and normalcy in surpassing trauma and rebuilding lives.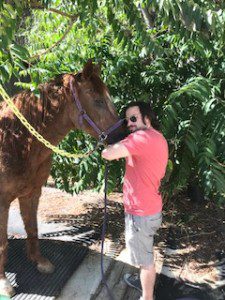 Now I See A Person Institute uses an alternate approach with individuals and families who have experienced violent crimes. loss and trauma. Come join our team of therapists at Now I See A Person Institute and experience our therapy which fosters hope, new possibilities, transformation and new identities to these heroes and heroines. Here we see you as a person, here we believe in you.
As in Open Dialogue, the clients are seen with members of their community—family members and/or mandated social workers and lawyers— rather than individually, and rich conversations emerge among all parties. We view clients and their families as the experts in their lives and believe they have the strength and answers within themselves; it is merely our role to listen intently and honor their stories. Through this collaboration, real hope and sustainable change emerge. And, as the clients begin to see themselves as people and not a diagnosis, so do others. 
Sessions with horses
All sessions take place in front of the horses. Horses are relational animals who naturally live in herds and everyone that comes to the ranch is part of that herd.  This provides a backdrop where conversations are actions of everyday life, where some themes are more urgent than others but where all discourse represents human-to-human interaction rather than therapist-client interaction. Too, horses have the natural gift of experiencing people as they are within the present moment. Through the eyes of a horse there is no prejudice, no judgment, no psychological jargon. One can imagine how much easier it is to talk about traumatic events such as sexual abuse, or seeing a parent murdered, while petting and hugging your favorite horse. We have also seen how people connect to the horses and then connect to themselves and others, becoming hopeful about new possibilities. For example, one woman who had been in violent relationships and had lost hope gained feelings of power and confidence when she became able to walk Jack (the biggest horse) into his stable; we've seen a parent and child's relationship soften after viewing love expressed between Theresa (a mother horse) and Oliver (her foal). 
We feel our journey with our clients results in becoming what we like to call "Extraordinarily Normal." The narratives of pain and suffering they begin with are transformed into conversations honoring their innate strengths, resiliency, hope for the future, and other themes that are Extraordinarily Normal.  These themes include new ways to live daily life: building relationships, celebrating when days go well and problem solving when they do not.
We have been conducting qualitative research for over 10 years now, which reflects that the majority of our clients transform and lose their deficiency labels as well as find joy in Extraordinary Normalness. All the research points to seeing and treating our clients as human beings and not an illness leads to complete and sustainable recovery.